Course details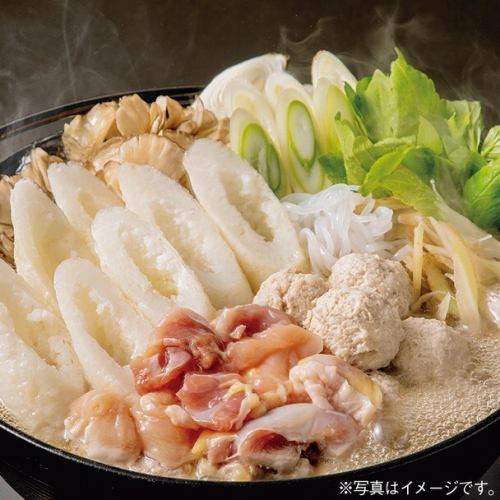 【This time only limited!】 Akita HIRONE chicken is used !! "Specialty Kiritanpo Nabe" can be enjoyed ♪ 2h drinking and drinking !! 5500 yen
By using a coupon4980 yen
7items

4

-

35persons

All-you-can-drink available

All-you-can-drink for 2 hours [LO. 90 minutes]
Enjoy coupons at 4980 yen !!
Course menu
=================
Limited course which shop owner seriously made
To make it the best year
We prepared absolutely satisfactory contents!
=================
【Goodbye】
· Seasonal gem
【salad】
· Seafood salad
【sliced ​​raw fish】
· Fresh fish making 3 platter assortment
~ Carefully selected fresh fish ....~
【Goods】
· Specialty! Mackerel Mountain Wasted Sake Dried Charcoal Grill
【Fried food】
· Deep-fried chicken with chicken and fried potatoes
【Nabe】
· Specialty !! Kiritanpo Nabe
~ Leave the taste of authentic Akita ....My heart and body are very popular ~
【meal】
Deep-fried rice cake or Ina Garden Udon
【Sweet taste】
Seasonal sweetness
------- 【promise of silver】 -------
I, cherish the feeling of the season, offer dishes that you can say "yeah!
Second, because it is a local cuisine, we offer you delicious food.
Three, do not forget your affordable price.
Four, I will not forget your smile and energy.
--------------------------
All-you-can-drink menu
· Bottled beer
· Bottled beer
·sour
· Sour variety
· Horn balls
· Horn balls
·Sake
·Sake
·wine
· Glass wine
·Soft drink
·Soft drink
Reservation deadline

2 days before arrival date 17 o'clock
Available days for reservation

Monday - Sunday - Public holidays - Holidays
Coupons that can be used with this course
2018/12/05 update