Course details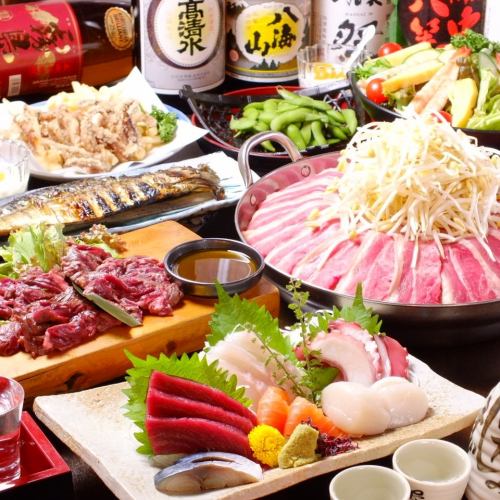 2 kinds of main pot you can choose / with aging Harami !! 330h with a drink all you can with 5500 yen ⇒ 4980 yen with coupon use (tax included)
By using a coupon4980 yen
All you can drink beer at + 300 yen!
9items

4persons

-

All-you-can-drink available

※ + 300 yen / person draft beer OK
Course menu
【Official】 Boiled Edamame
【Salad】 Seafood Soup Salad
【Buying】 Fresh fish making 3 points platter ~ carefully selected fresh fish ~
【Goods】 Specialties Mackerel Mountain Waste Dryer Dried Charcoal Grill
【Deep-fried foods】 Useful fried chicken legs and potato fried assorted ~ carefully deep fried gem ~
【Goods】 Specialties Charcoal-grilled beef Harami no Tataki ~ A gem that has matured with its own technique and derived umami ~
【Pot】 Please choose.
A)) Beef Hormone Pot 【Specialty Beef Rose and Raw Hormone Volume plentiful Addiction hot pot - fluffy beef delicious soup】
B)) Seafood pot 【Fried pork with plenty of taste of seafood and sauce-based fish shell full of vegetables】
【Meals】 Old cook
【Sweet taste】 Seasonal sweetness
* Depending on the purchase situation, some menus may be changed.
All-you-can-drink menu
·beer
· Changeable to draft beer at + 300 yen
·sour
Various
· Horn balls
· Horn balls
· Shochu
· Potato shochu · wheat shochu variety
·Sake
·Sake
·wine
· Glass wine
·Soft drink
Various
Reservation deadline

Until 17 o'clock the day before the desired store visit
Available days for reservation

Monday - Sunday - Public holidays - Holidays
Coupons that can be used with this course
2018/11/14 update